EDP SonaSwitch Mini S Polaroid 600 ultrasonic transducer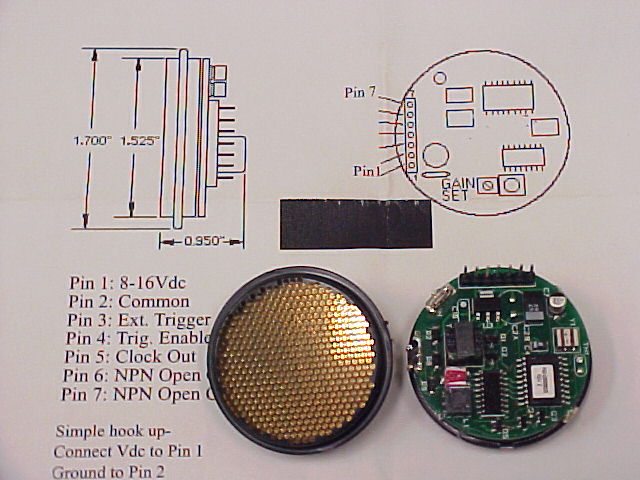 Use this fully-functional transducer/amplifier system as-is, or discard the amplifier board and consider it a cheap source of the Polaroid 600 transducer.
Output Response Time: Model Mini S: Three (3) consecutive target hits before turn on; three (3) consecutive misses before turn off. Model Mini A: 0-5 VDC or 0-10 VDC analog output is filtered to the approximate formula; V out = 0.9 (Vnew value) + 0.1 (Vpast avg. value). Custom response filters available.
Environment: Indoor or protected outdoor environments; Highly insensitive to temperature. Humidity and pressure changes. Withstands high audio and EMI/RFI levels; Must be protected from excessive moisture in outdoor applications.
Size: 1.700" overall diameter; 0.950"depth; 1.525 transducer face diameter.
Operating Temperature: Operating –40 to 85°C (–40 to 185°F)
Weight Requirements: 8-16 VDC; 30 ma maximum current.
Mounting: Mount in 1.575" diameter hole; use RTV silicone or edge clips to secure in place.
Transducer: Electrostatic transducer available in standard flat black cold rolled steel housing or metal finish stainless steel housing. Polymer coating available for extra durability in harsh environments.
Range: 6" to 10" adjustable; ¡À 0.1% accuracy over entire range at stable temperature; Switchpoint and analog outputs are temperature compensated. Custom ranges of 1" to 40' available.
Beam Angle: 15 degree nominal; Single beam. Cone-shaped pattern diverges approximately 2.6' at maximum range (10').
Repetition Rate: 10Hz astable; May be externally triggered.
Outputs: Model Mini S Two (2) adjustable NPN open collector outputs; transistors are continuously energized during detection period. Model Mini A One (1) 0-5 VDC or 0-10 VDC 10- bit analog output with fully independent zero and span adjustments over entire operating range.
Full details available at the manufacturer's site: http://www.edpcompany.com/sonaindex.html
Available files
The price for MINI-S is $50.00 each.
Volume discounts are available for orders of ten or more.

All prices are in US dollars and are subject to change without notice.
We ship worldwide from our warehouse in Tuggerah Business Park, NSW, Australia.
To ask a question or to place an order, please use the contact form.